Service
Production Support
From crop production to the dinner table. Producing is a relay of "human hands. Seeds are sown, grown, and harvested. Then, we cook. What is connected by "human hands" changes its shape.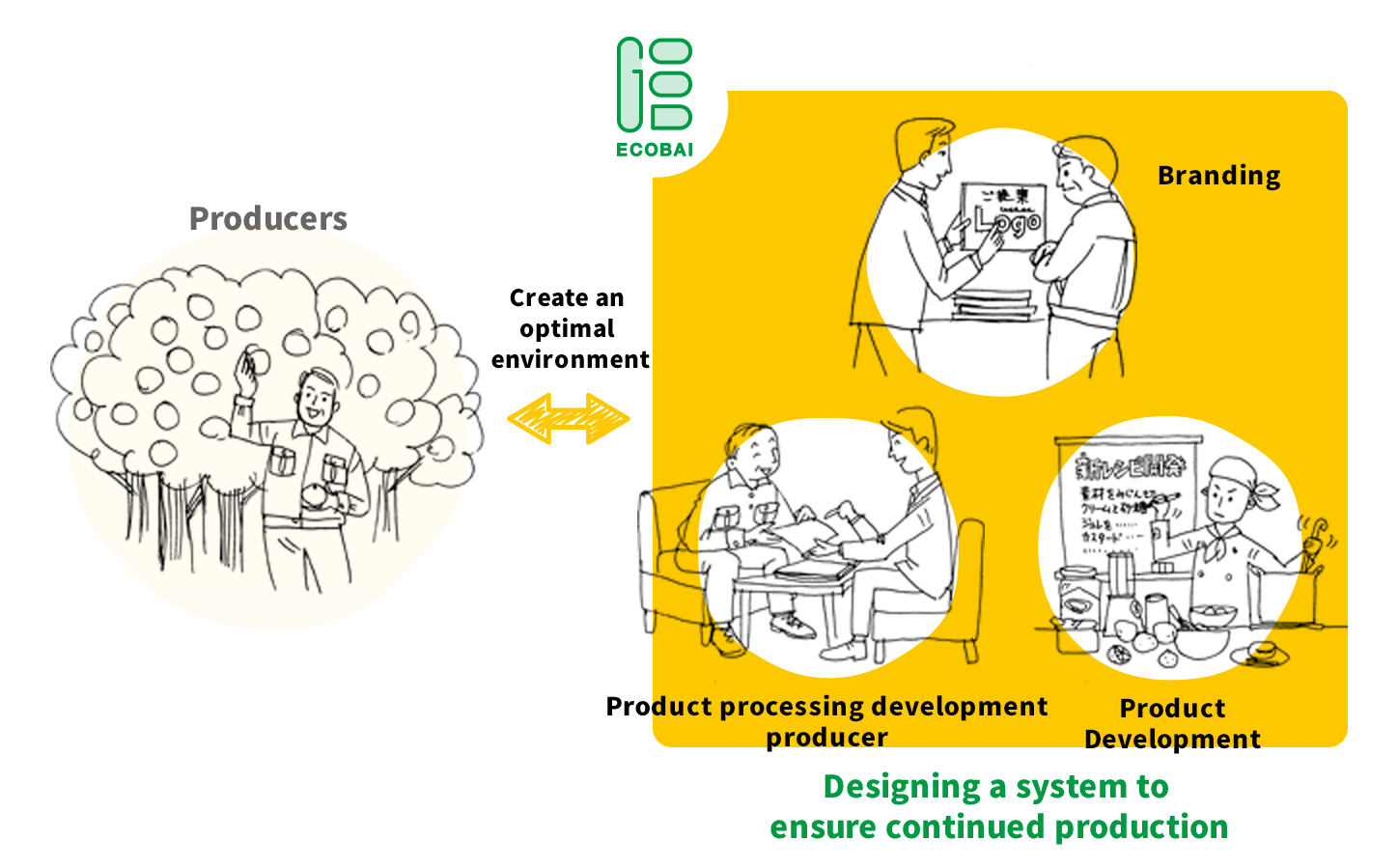 Branding
In order for producers to continue to run their businesses, they must ensure that all aspects of the overall experience they give to consumers are staged correctly, and that value is created and improved. In doing so, we utilize national and prefectural programs to implement initiatives that will help them become more established with cooperation from all directions.
We can assist you in creating a management philosophy, business application, business plan, logo design, store design, etc.
Product Development
We can assist you in marketing your product to the market, creating a menu of processed products (recipe development, production, package design, pamphlets, POP, etc.).
We can assist you in manufacturing products with sales channels.
Product processing development producer
In response to the needs of farmers, forestry and fishery companies, we provide assistance in a variety of areas, including processing, sales channel development, hygiene management, management improvement, export, and collaboration with other industries.
---
Sales Support
We cook and eat what we harvest. The environment in which the food is grown creates the food itself. Food is something that makes people better. Food is what makes people better, and the environment is what we take from them.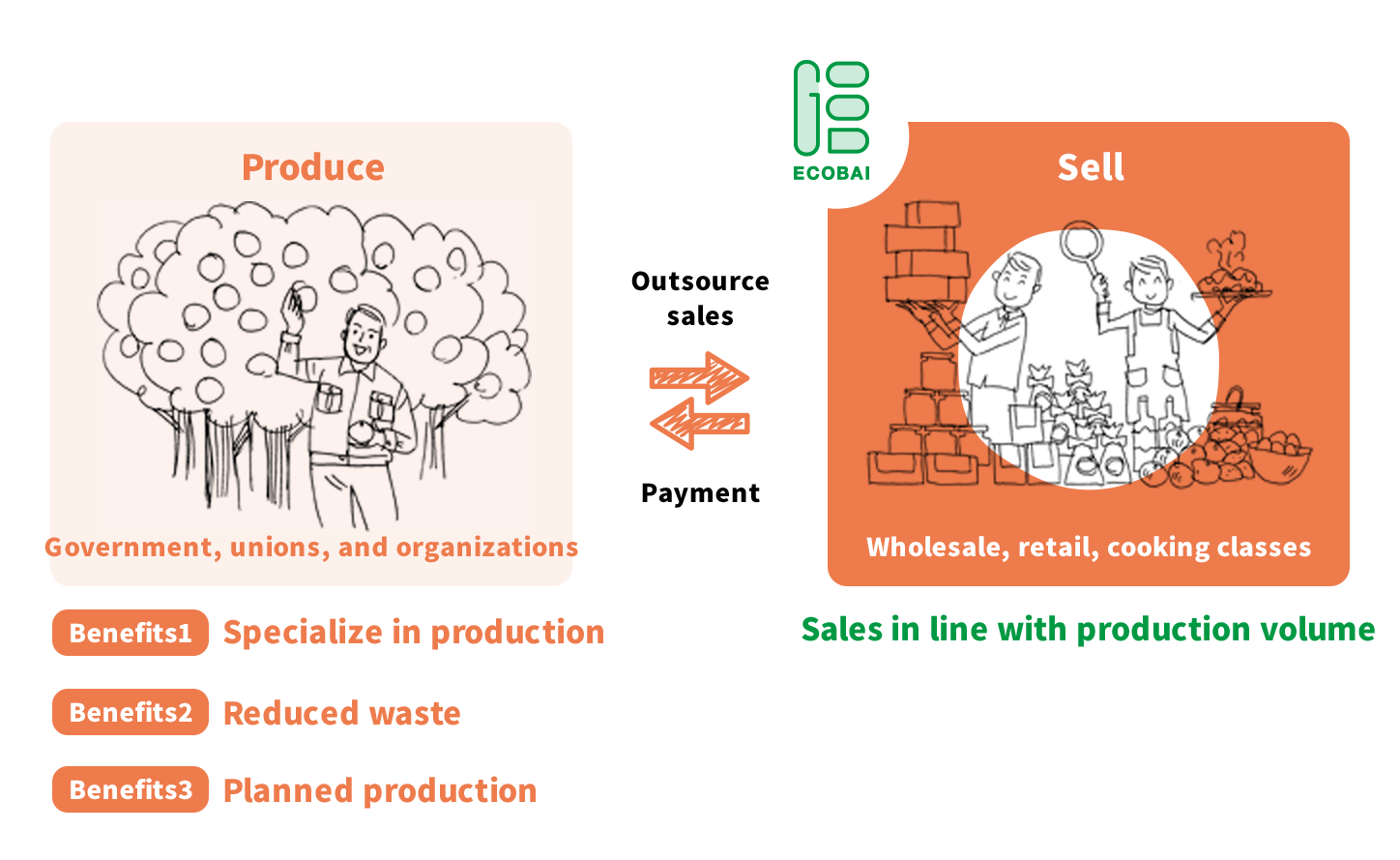 Wholesale (domestic and overseas)
We assist in the sale of fruits and vegetables and processed products for commercial use.
Documents up to export (pesticide residue testing, ingredient analysis, etc.) Export procedures, etc.
Retail (domestic and international)
We help with sales at department stores and select stores in the Tokyo metropolitan area.
Sales (including promotions, tastings, etc.) at retailers outside Japan, etc.
Marketing sales (domestic and international)
We will conduct a test sale in a target market.
We will listen to the evaluation of the products, how well they sell, and the voices of the customers, and aim for more continuous sales.
This is a step-up approach for new sales channels.
---
The connection between production and consumption. The exchange between "growers" and "eaters" will open up a new world of food. It is important to know the people who produce the food that makes your body. It is important to know the people who produce the food that you use to make your body, and it is possible to produce food because there are people who eat it. Connecting" is the continuation of production.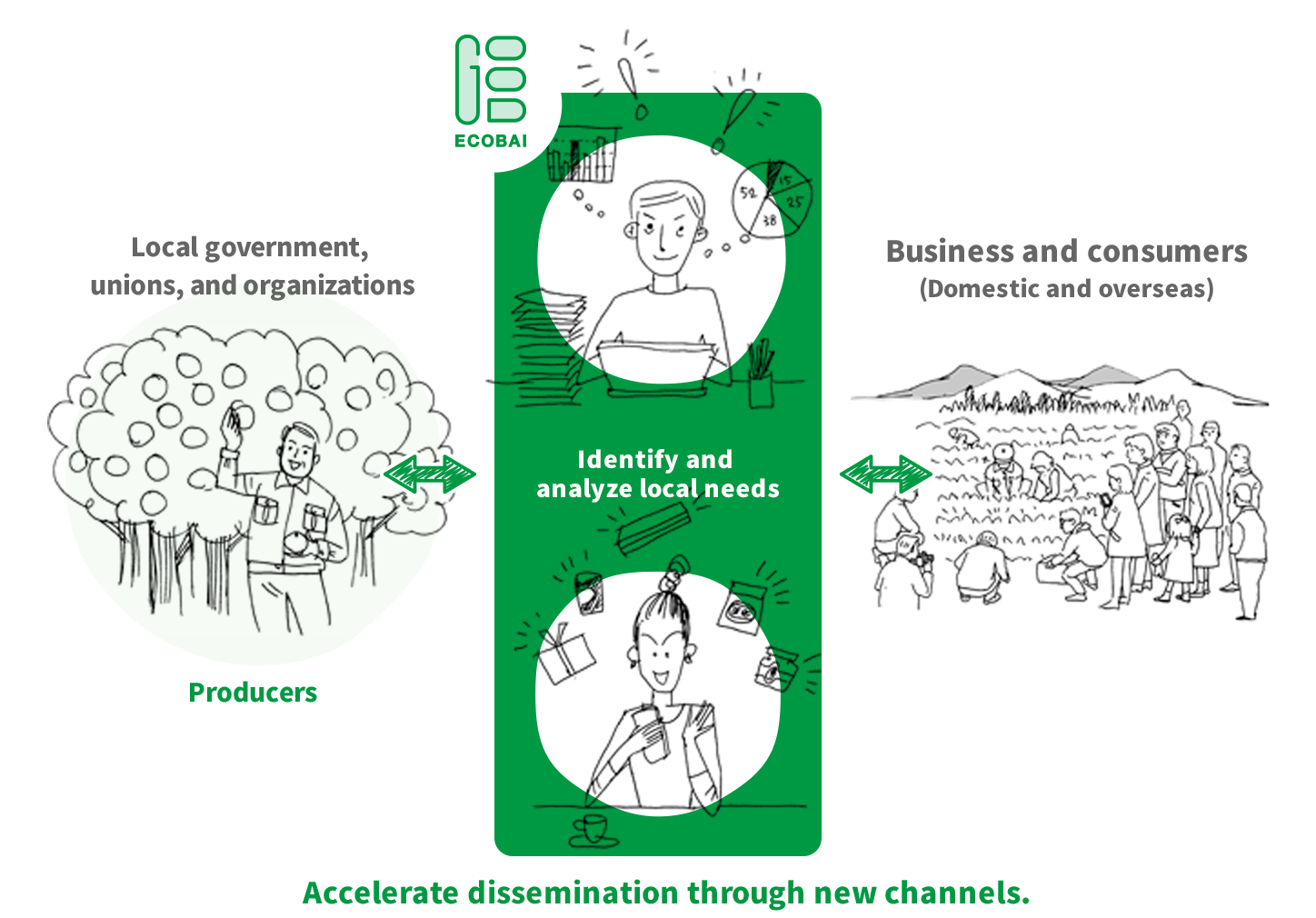 Agricultural Sightseeing Tour
We propose high value-added plans that combine tourism and production.
We will plan and implement measures to accept inbound visitors, strengthen acceptance, research needs, sell local specialties, and create tour contents that are unique to the region, which are generated from production and connected to tourism.
As a mechanism for sustained sales, we propose AR, interpretation services, support for receiving visitors using tablets, and create itineraries that add value to the region.
We will send out information about the region to the world at large.
Local Promotion
Creation of an annual plan for the region aiming to continue production, measuring collaboration with different industries in various channels.
Formulate, apply, implement, and verify promotion strategies using national and prefectural programs.
We effectively organize announcements, domestic and international events, exhibitions, etc., to promote the region for the future, increase the number of people involved, and lead to a positive effect on the local economy.